Matt O'Neill's Metabolic Jumpstart
Achieve breakthrough results with our revolutionary nutrition program
Now you can combine your fitness training at Caroline McDonald Personal Training with a powerful nutrition plan, designed by leading Dietitian Matt O'Neill. We've partnered with Matt to bring you this revolutionary food program and additional ongoing benefits, when you register with Caroline McDonald Personal Training.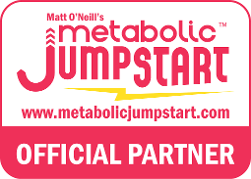 What is Metabolic Jumpstart?
Metabolic Jumpstart is very different because you receive a Dietitian-designed nutrition plan, personally matched by Matt O'Neill to optimise your metabolism and your results.
You choose whether to lose weight fast, slow, maintain or even gain weight. Your plan will match your desired goal.
With your correct calorie level, correct balance of protein and carbohydrates, and correct nutrient intake, your metabolism resets and results appear automatically.
In just 4-weeks, you'll re-program your eating habits with this surprisingly simple approach to food.
What you get
With Caroline McDonald Personal Training, you get a complete nutrition package:
Your Metabolic Jumpstart Report with Nutrition Plan
Motivation Pack posted to you with target cards & fridge cards
4-Week email coaching program to change your eating habits
Discussion forum for expert advice and answers
Your Personalised Metabolic Jumpstart Report
Your unique 16-page report contains:
Body shape assessment and metabolic rate figures
Personal calorie burning times for specific foods
Sample menu plan showing correct meals and snacks
Nutrition targets for kJ, calories, fat, protein and carbs
Ready Reckoner with simple food group targets
Mix and match food guide with easy-to-follow rules
BONUS Metabolic Jumpstart Club Membership worth AU$9.95/month
When you register for your Metabolic Jumpstart with Caroline McDonald Personal Training, you receive as a special bonus – MJ Club Membership – normally AU$9.95 per month, but included with your package. That's AU$120 per year additional value!
Your MJ Club Membership includes access to:
Over 350 nutrient-rich recipes
Over 100 tip sheets with solutions for every challenge
20 mind-shifting audio seminars by Matt O'Neill
Motivation Planner, with audio guide
Expert interviews on key topics, like hormones and metabolism
Dozens of downloadable tools, charts, trackers and posters
Matt O'Neill's ongoing support, advice and motivation
Weekly MJ Club eNews motivation & tips
As part of your Metabolic Jumpstart with Caroline McDonald Personal Training, you also get the weekly MJ Club eNews direct from Matt and his team when you start your program.
With expert advice, fresh food ideas and encouraging support, this regular contact is important to help you continue or maintain your results.
Caroline McDonald Personal Training and Metabolic Jumpstart give you the best of fitness and nutrition for the breakthrough you deserve.